Scandal
| | |
| --- | --- |
| | We have been poodle lovers and enthusiasts for over 35 years. Our first and second poodles were silver miniatures and were treasured family companions as our children were growing up. As our second miniature was reaching her senior years we purchased our first black standard poodle from Bibelot Kennels bred by Susan Fraser and Elaine & Bob Whitney. |
Little did we realize the new adventure this black standard girl would lead us on. BIBELOT'S NAVEREAU FOLLY, "Folly" to us became the foundation of Reigate Standard Poodles. She gave us our first six home-bred champions.
Folly continued to preside over teaching her grandchildren and great-grandkids their manners for 14 1/2 years until the end of May 2001. She will always have a special place in our hearts and her spirit lives on in her offspring here with us.
Folly's daughter Kayla from her first litter was our first official Reigate Champion and our first Obedience Champion. Ch. Reigate's Blythe Spirit CDX celebrated her 15th birthday April 8, 2004 but sadly Kayla went to the Rainbow Bridge August 30, 2004. She was always a true ambassador for the poodle breed, a dear friend, and still missed.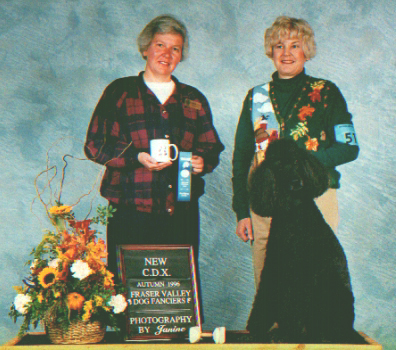 Kayla
We lived in the Lower Mainland for 33 years but we are now located in the Comox Valley on Vancouver Island, British Columbia Canada. We again have a lovely new 5 acre hobby farm which we share with the dogs to both of our delight having lots of room for our activities.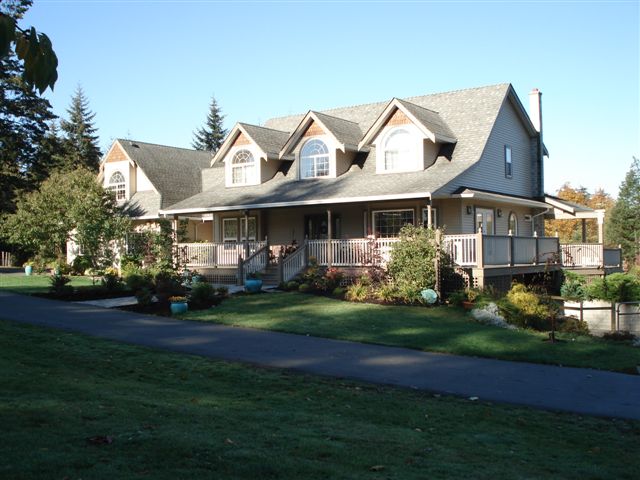 Our puppies are raised in our home environment and carefully socialized and handled. We spend a great amount of time and care in finding the right homes for our poodles because the majority of our puppies are placed as family companions.
We believe that acquiring a canine companion is a serious commitment. We expect to have personal communication by telephone and visitation (when possible) with prospective puppy owners as part of our interview process.
Our Puppy/Dog Questionnaire is for reference. If you are interested in more information about our dogs and our future breeding plans please contact us at Reigate Standard Poodles
| | |
| --- | --- |
| Bronte | |
| | We will not attempt to educate you about the breed here on our website but happily refer visitors to the Versatility In Poodles website to learn about all things "Poodle" and to become better informed puppy purchasers (www.vipoodle.org). |
For further information about our dogs and breeding plans please contact us at Reigate Standard Poodles